MEET THE OWNER: DOMINIQUE
I've been styling hair for over 15 years and my goal is to make everyone who sits in my chair feel beautiful, excited and happy to be who they are! I am very passionate about hair and truly love what I do! I specialize in healthy hair care, weaving, and various other extension techniques.

I created this brand and chose the name Alter Ego because I, like many women struggle with hereditary thin hair. Not being able to wear many styles or achieve certain looks was depressing and challenging for me until I discovered wigs. Everyday I could have a different look without having to spend hours in a salon. I could easily choose from my collection of wig units, any look I wanted to achieve for that day or week! It was convenient and fun. I truly fell in love with the versatility, quickness and ease of wearing units. Best of all I could protect, and better care for my natural hair underneath.
What I love most of all is the feeling I feel when my hair looks great! Whether I'm wearing my natural hair or a unit, as long as my hair is beautiful it brings out a whole other side of me, my Alter Ego! A feeling I want every woman to feel.

I wanted a place where women could care for their natural hair, whether they suffer from hair loss, alopecia, cancer or any other ailment or just wanting to take better care of their hair with routine treatments, blowouts, trims, etc. While also properly maintaining their wig units, being able to have them shampooed, styled, repaired, etc all in a one stop shop. Alter Ego Hair Salon and Wig Bar is that place!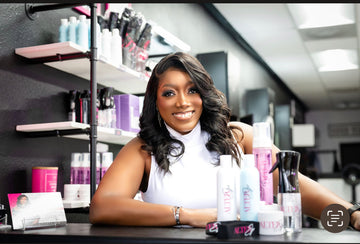 SPECIALIZING IN: HEALTHY HAIR CARE, NATURAL HAIR CARE, AND WIGS / WEAVES
NATURAL HAIR CARE
✓ Blow-Outs✓ Deep Conditioning Treatments✓ Twist Outs / Rod Sets✓ Color Services
HEALTHY HAIR CARE
✓ Silk Press / Relaxers✓ Rod Sets✓ Color Services✓ Hair Cuts✓ Deep Conditioning Treatments
WIGS AND WEAVES
✓ Sew-Ins / Quick Weaves✓ Closures / Lace Frontals✓ Lace Wigs✓ Clip-Ins